Hi there! I'm Mir and well.. I love to read!
My book blog: entangledwords.wordpress.com
"I know every book of mine by it's smell, and I have but to put my nose between the pages to be reminded of all sorts of things" - George Robert Gissing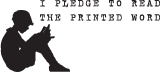 mellifluousshe reblogged this from the-absolute-best-gifs and added:

peetaslongbun He understand us.